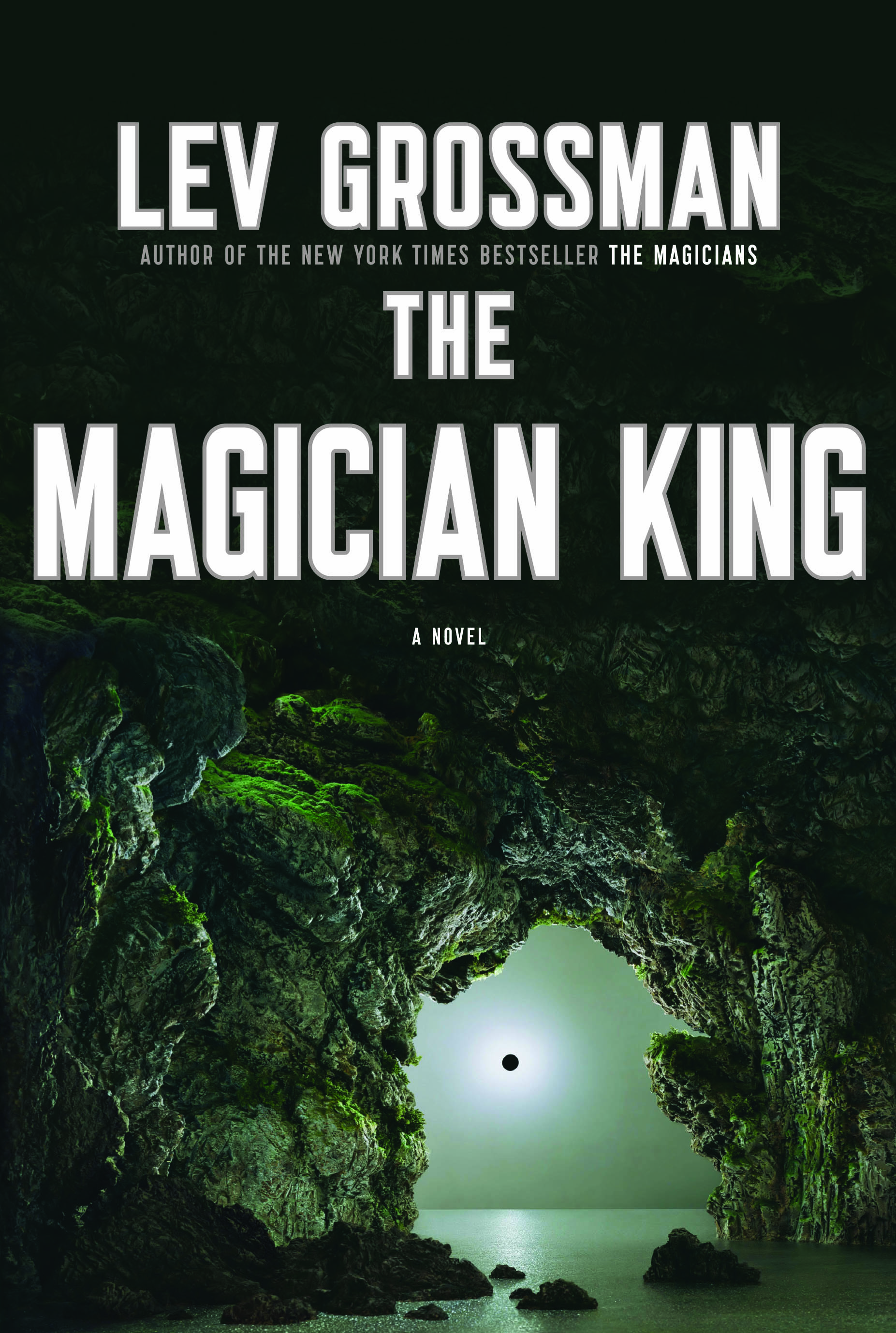 Lev Grossman's brand new book The Magician King came out this week. It's a sequel to the hugely successful The Magicians.
If you line the two books side by side on your shelf, you might not notice that the author photo on the back flap has changed. When he's not wearing his best-selling author hat, Mr. Grossman is the book critic for Time Magazine. Here he explains the photo switch, and then his feelings about author photos in general.
--Sarah P.
My Hideous True Form, Revisited
By Lev Grossman
Recently Viking asked me if I wanted to use my same author photo fromThe Magicians for The Magician King.
Now, I like that photo. It looks like this: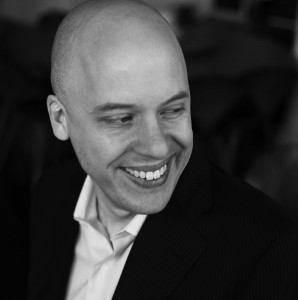 I had a professional photographer take it, because, hey, professional photographer, right? If I told you how much it cost you would reach through your computer screen and punch me in the face. But it was the cheapest professional option I could find.
It's actually an outtake from the regular posed photo session — this is me laughing from the incredible pain of undergoing a posed photo session. I think my teeth got a little over-brightened in Photoshop — I look kind of like Ross in that episode of Friends where he has his teeth whitened. But I like it.
[I also like the photo on the bio page of this site (it's from my "stubble" phase!). I didn't use it on the jacket because I can't afford the rights to it.]
But some media outlets and foreign publishers balked at that photo. They wanted color photos, or they wanted something more conventional, where I was actually "looking" at the "camera." My German publishers, for example, went a whole nother way. That's a shot from the real posed photo session.
So when Viking asked me if I wanted to try something different for The Magician King, I said, what do you think of this: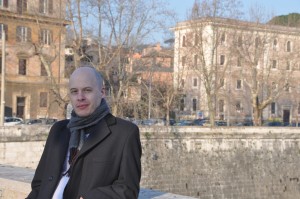 This is me in Rome last spring, for a last hurrah before this happened. It's just a snapshot. I'm standing on a bridge over the Tiber. The light is nice because it's like 6:00 in the morning, and Sophie and I were both awake from jet lag. Plus it's Rome, where the light is always nice.
Obviously it's not a professional photograph. My face is in shadow, and the trees are kind of distracting, and there's probably other things wrong with it that my amateur eye isn't detecting. But the Vikings liked it. So we're using it.
I'm making eye contact, at any rate. And it's in color. And you can't see my teeth.
Sarah: As a critic, you've surely seen your share of author photos. Does a serious book require a serious expression, and a comedy a smile?
Lev: I'm embarrassed to say that I'm an unreconstructed checker-of-author-photos. I suppose I should admit that the Author is Dead and it's only the text that matters, but I always look. One comes to a new book armed with so little information -- every extra bit helps.
But to answer your question, I agree with the first part but not the second. Sometimes I like to see a comic writer sporting a deadpan author photo. It makes me think there might be some depth and some pathos underneath the humor. Always an intriguing possibility. But I'm not a huge fan of serious authors who grin in their author photos. If I'm going to be heart-wrenched by a work of high tragedy, I don't want the author winking at me from the back cover as if to say, I was only kidding! I want him to look the way he's making me feel.
Lev Grossman is the author of the international best-sellers Codex, The Magicians and now The Magician King. He writes for Time Magazine and has also written for The Wall Street Journal, Salon, Wired and others. The musings about his author photo also appeared on his blog.